Z-Cap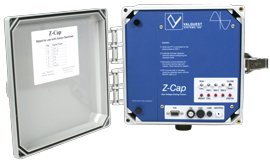 Valquest Systems, Inc. introduces the Z-Cap™ "Zero Voltage Closing" (ZVC) Capacitor Switch Control to meet the Smart Grid demands of the Electrical Distribution Community.
The Z-Cap is one of the most efficient methods of controlling switched capacitor banks. Zero voltage closing significantly improves power quality, eliminates voltage transients, reduces both capacitor inrush currents and voltage peak surges, and diminishes harmonic distortion. To achieve zero voltage closing of an entire capacitor bank, the Z-Cap initiates a separate close operation, per phase, synchronized with zero crossing. Zero voltage closing performance is maintained through ongoing automatic switch calibration and adjustment for temperature and wear.
The Z-Cap is ideally suited for use in conjunction with Valquest's VAr-min Capacitor Control as well as a wide variety of controls from other manufacturers. It is compatible with solenoid-operated switches from leading switch manufacturers such as Maysteel, Joslyn and Cooper. This versatility combined with its low cost make it the premier control to meet your power quality requirements.
Closing each capacitor switch at precisely the right time,
Z-Cap effectively:
Eliminates switching related voltage transients
Improves power quality
Diminishes harmonic distortion
Lowers voltage peak surges
Increases capacitor life by reducing inrush currents
Accuracy is unparalleled
Independent temperature compensation of local closing caps and bank switches
Microprocessor based solenoid operation analysis
Precisely controlled local closing energy storage
Digital waveform analysis
Automatic timing self adjustment based on closing feedback
Line frequency monitoring
Bonus Features
Compatible with any capacitor control or PLC
Works with Maysteel, Joslyn, and Cooper solenoid operated switches
Provides 52A Status and Control-Ready dry contact signals back to controlling device
Digital control, monitoring and data storage available via RS-232 port
Technical Specifications
| Parameter | Range | Units |
| --- | --- | --- |
| Operating Temperature | -20 to 145 | Degrees F |
| Humidity (Non-Condensing) | 0 to 100 | Percent |
| Operating Voltage | 110 to 140 | VAC |
| Power Usage | 2 | Watt |
| Enclosure | NEMA 4 | Polycarbonate |
| Closing Accuracy | +/- 0.45 | Millisecond |
Configurations
| Bank | Rotation | Voltage |
| --- | --- | --- |
| Single Phase | | Phase-Neutral |
| Three Phase Grounded Y | ABC | Phase-Neutral |
| Three Phase Grounded Y | ABC | Phase-Phase |
| Three Phase Grounded Y | CBA | Phase-Neutral |
| Three Phase Grounded Y | CBA | Phase-Phase |
| Three Phase Un-Grounded Y | ABC | Phase-Phase |
| Three Phase Un-Grounded Y | CBA | Phase-Phase |
Examples of recorded voltage waveforms (contacts closed at time 0)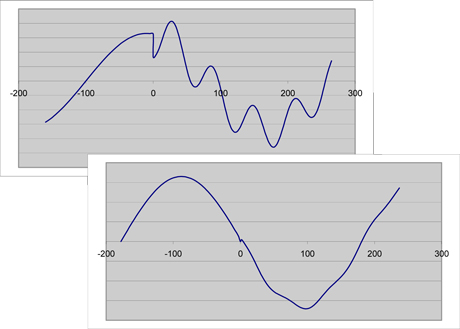 Without Z-Cap
Using Z-Cap